2023 JM MEDIA VANCOUVER OPEN & MAUI JIM CHARITY PRO-AM
Presented by Vancouver Parks Golf
Aug.16-20, 2023
Fraserview / Langara / McCleery
34-YEAR-OLD KEVIN SPOONER WITHOLDS ALL CHALLENGERS & ON ROUTE TO VANCOUVER OPEN SCORING RECORD
West Vancouver's Kevin Spooner proved to all 312 Van Open competitors, AND to the BC Golf Community, that he has the stuff winners are made of.  Spooner recorded rounds of 68, 61 & 67 for a 3-day total of 18-under par to capture his first ever Vancouver Open title.
From his course record round of 61 (-10) at Langara on Saturday (birdying his final 5 holes), to extending his lead on Sunday for a decisive 4-shot victory & a Vancouver Open scoring record, Spooner re-asserted not only how talented a player he is, but how much it meant to him to capture this title.
"It's been quite a while since I've been as nervous as this" stated Spooner of his pre-round jitters. "Its the first time I have felt that added bit of nerves not having played in the final group of the Van Open before, and likely not been that nervous since I played on PGA Tour Canada".
Spooner's run for the Vancouver Open title started out smoothly in the opening round on Friday with a solid opening round of 68 (-3) at McCleery Golf Course.  This placed him comfortably within 2 shots of the leader Kevin Stinson, who surprised himself with the low round of 66 (-5) for the day while battling a stomach flu. I'm operating on about 10% energy" he stated after the round. "But beware of the sick golfer" he joked.
At the conclusion of round one, four players found themselves just one shot back of Stinson and another five players would be within 2 shots of the lead.  And a total of 18 players were within striking distance 4-shots back or less.
One player who did not fit that bill was Golf Canada Young Pro squad player Chris Crisologo, who had grown up on Vancouver's city courses as a young junior.  His 2023 Vancouver Open did not get going as he envisioned, firing an untidy round of 74 (+3) leaving him 8 shots back of the lead and a steep uphill battle if he was going to contend for the title.
In the Women's Championship, Delta's Mary Parsons opened with a sold round of 2-under par 69, tied at the top for the Women's Championship with three-time Women's Champion Christine Wong. Since a separate trophy and bonus purse was launched by the tournament (proudly supported by Maui Jim Canada), Wong has owned the Women's Championship taking home the trophy (and bonus $1,000 cheque) the last 3 of 5 years.  At first glance, it looked like she had a serious challenger in Parsons, who is in her maiden season as a Professional and played some very steady golf on the Women's All Pro Tour (WAPT) finishing 10th on the season's money list.   
In the Amateur competition (a trophy won 3-straight years by PGA Tour player Adam Svensson in 2011-2013), it was pair of Fraserview players Denby Carswell and Jessica Ng who led the way with rounds of even par 71.  While Carswell was being followed closely by his male competitors (12 within 4 shots), Ng had separated herself from her nearest competitor by 6 shots.
In the Senior Competition it was Vancouver Golf Club's John Gallacher who charged out to the lead on day one with a very solid round of 70 (-1) on the testy McCleery Golf Course layout.  Following closely behind was his VGC club mates Steve Savage and Michael Marino, both carding 73's.
In the inaugural edition of the Adaptive Golfer Championship, it was Matt Hallatt who jumped out into a 6-shot lead in what would be a 2-player battle with Dustin Boydell.
DAY TWO – Langara Golf Course
Day two leaderboard started out log-jammed at the top with more than 25 golfers within 5 shots of the lead for the title. By the end of the morning wave of tee-times, it was a completely different story. 
At first glance it appeared that it was Marine Drive's Crisologo who was going to be the story of the day.  He went about his business early, reeling off 3 straight birdies on his opening 3 holes, and added another 3 birdies the final 3 holes of his front nine for an outward score of 30 (-6).  Suddenly, he was back in this tournament at 3-under par thru 27 holes.  The only issue, however, was Spooner himself was on a mission to keep the distance.  He carded a 5-under 31 of his own to reach 8-under par at the half-way point of the Championship. 
Crisologo kept the pressure on, birdying his 12th and 13th hole, now 8-under for the day and just 3 shots back of Spooner with 5 to play.  The number "59" was thrown out there on social media by more than a few on-lookers.  Langara posed many challenges on the greens, but being a par 71 and some realistic birdie chances coming home, breaking 60 was definitely out there for the Team Canada young Pro.
But surprisingly, it wasn't Crisologo everyone was talking about at the end of the day. At least not the only one being talked about.  It was in fact West Vancouver's Spooner, who took his own turn at making a run of 3-straight birdies (on holes 14 thru 16).  Even with Crisologo making another birdie on 15 to get to 9-under par (and -6 for the tournament), Spooner sat in the driver's seat again at -8 for the day and -11 total. 
And when his final 2 putts dropped on his 17th and 18th holes of the day, not only did he extend his lead to 7 shots over Crisologo, he would etch himself in the Langara record books with his incredible course record score of 10-under 61 (also a Vancouver Open single round record)!   
With Spooner's putt hitting the bottom of the cup on his final hole (#9), Crisologo had his chance to tie the course record with an 8-foot downhill putt, but it just wasn't to be.  Like several putts on the day that could just as easily have gone in, this one caught the lip and did not fall.  A spectacular round of 9-under par 62 for Crisologo, that on any other day would have felt sweeter than the brownies served at the Langara half-way house.  But on this day, a bitter-sweet ending to a lovely round of golf, overshadowed by Spooner's 10-under par 61 that was completed with 5-straight birdies.
At the end of the morning session, Spooner had not only surged to the top of the leaderboard but had taken a 7-shot lead over his next few competitors at 6-under par (Crisologo, Ziggy Nathu and Max Cowen).
However, Friday afternoon featured some of BC's heavy hitting tour Pros, including last year's Van Open Champion Ilirian Zalli, Smithers' long-bomber Kaleb Gorbahn, VGT's Order of Merit Leader, Lawren Rowe (4 wins this year), Meadow Gardens' Jake Lane and Langley's James Allenby.
All five players had a heavy task at hand – but seeing Spooner's course record 61 in the morning, were up for the task of shooting a low number and reeling him in. 
Just like it had done in the AM session on Friday, the wind that was non-existent that morning for Spooner and Crisologo, picked up in the afternoon and made the Langara greens that much harder to navigate, both in the approach shots, and with the putting as greens started running close to 12 on the stimp meter.
At the end of play on Saturday it was the pair of Jake Lane and James Allenby who closed the gap on Spooner, shooting impressive rounds of 66 and 65 respectively.  Lane would reach -7 thru 36-holes and Allenby would get it to -10, and just 3-shots off Spooner's 13-under total. 
Delta's Mary Parsons asserted herself in the Women's competition shooting a very strong round of 68 (-3) to reach -5 for the tournament and holding a 1-shot lead over UGC's Christine Wong who shot her 2nd consecutive round of 69 (-2). 
In the Men's Amateur competition, Kevin Li's second round of 68 (-3) at Langara vaulted him into a 2-shot lead over Richmond's Mike Aizawa thru 36-holes, with Sher Sidhu 4 shots back at +1.
In the Women's Amateur Championship, Fraserview's Jessia Ng asserted herself in round two again with another steady round of 70.  Her 2-day total of 141 (-1) opened a dramatic 14-shot margin heading into Sunday!
The Senior Men's Championship continued to be a 2-man Vancouver Club battle against Steve Savage and John Gallacher.  Savage would head into Sunday with a 2-shot lead over Gallacher after some very steady play of 73, 72.  Gallacher didn't have his "A" game on Saturday firing a 6-over par 77 for a 147 total. 
The Adaptive Golf Championship was heating up on Saturday, as Chilliwack Golf Club's Dustin Boydell would make up 8 shots on Matt Hallatt after a solid round of 82 on the day.  They would head into Sunday just 3 shots apart with Boydell in the lead. 
DAY THREE – Fraserview Golf Course
With the field cut to 50% of each division and ties for Sunday, Fraserview shined brightly for all 168 competitors who managed to make it to the final round, just like its sister courses McCleery and Langara did in Rounds one and two.
The Adaptive Golf Championship paved the way on Sunday morning.  With Fraserview set-up in stern fashion, Chilliwack's Boydell saved his best round for last, carding an impressive round of 78 (+6).  While Hallatt battled all day and fired his lowest round of the week with 79, Boydell's consistency was too much in the end.  With a four-shot margin of victory, Dustin Boydell was crowned the inaugural Vancouver Open Adaptive Golf Champion!!
 "This opportunity to play in a 54-Hole Championship and come out victorious has done a great deal for my confidence as I prepare for the Canadian Championship" stated Boydell.  "Matt is a great player, and it was really fun battling it out with him all week". Boydell will tee-it-up in his first Canadian All-Abilities Championship on Sept.14-15 in Kamloops.  Earlier this summer, Hallatt was crowned the BC All Abilities Champion and is hoping to play in the Canadian Championships as well, all while completing his Masters degree.  Congrats on a great championship, gentlemen!
Our next Championship to be contested was our Overall Net Championship.  And it was Vancouver's Shane Danielson who outlasted all other players over the 3 days, carding a net score of 212 (-2)! This is Shane's 2nd Vancouver Open Net Title in the past 5 years. Congrats to Shane on the steady play and earning the most consistent player to his handicap all week!
Shane not only earned a custom Srixon Vancouver Open Champion golf bag, but a $500 VGT Gift Card. 
Our next three Championships were very close battles between first and second place in each handicap flight.  Hats off to all three Division Champions for their most impressive play:
FLIGHT 1 GROSS CHAMPION: Geoff Pearson (+21)
FLIGHT 2 GROSS CHAMPION: Ed Fitch (+28)
FLIGHT 3 GROSS CHAMPION: Kelly Wong (+34)
All three players received a $450 VGT Gift Card and winner's flag!
Our next Championship to be decided was a close contest between two players all week, and with his steady play all three rounds (73, 72, 73), Vancouver Golf Club's Steve Savage earned his first Senior Championship Title at the Vancouver Open.  He finished in front of good friend John Gallacher by 6 shots.  Gallacher would earn Low Net honors in the Senior Championship, a title he's not familiar with since he is a +1 handicap.  
In the Women's Amateur Championship, local knowledge continued to prevail for Fraserview & UBC golfer Jessica Ng.  Ng walked away with her 3rd straight Womens' Amateur Title at the Vancouver Open with an impressive three-day score of 219 (+5) and a 14-shot win over Lucy Park. Ng's win was good for a Van Open Champions bag and a $300 VGT Gift Card.
With last year's Men's Amateur Champion Mike Aizawa leading the way through 36-holes, it appeared both Men's and Women's Amateur trophies would have repeat Champions etched on them.  However, 19-year-old Kevin Li had something big to say about that, carding an impressive final round of 69 (-3) to finish 5-under for the tournament.
Andy Kang made a super run for the Amateur trophy on Day 3 shooting 68 (-4), but his total of 1-under thru 54-holes left him 4-shots back and in the runner-up spot for 2023.  Ledgeview's Sher Sidhu would finish in solo 3rd after a final round of 73, and our 2022 Amateur Champion Mike Aizawa one back in 4th. 
Li competed head-to-head with BC's top Professionals all week and finished in a respectable 12th place Overall in the Vancouver Open.  "If I had my best stuff this week, I truly believe I had a chance to win this tournament" stated Li.  "I feel this tournament experience playing with so many accomplished Pros will help me with my confidence heading down south this fall to compete for Seattle University".
Our final two Championships yet to be determined were the Men's and Women's Overall Champions.  At the start of the day, Delta's Mary Parson's had a one-shot lead over 3-time Women's Champion Christine Wong.  While Parsons did exactly what she needed to in the first 4 holes, birdying both par 5's, Wong traded one bogey with one birdie, and the margin was now 3 shots.
After two more bogeys on 6 and 7 by Wong for a front nine score of 37, Parsons continued to push ahead with a two more birdies for an opening nine of 33 (-3).  She now held a 5-shot lead with 9 to go and had her sights on not only winning the Women's Championship but giving it a serious run at the Overall title. 
While it didn't quite happen for Parsons in her first Van Open appearance, her back nine 34 and final round of 67 put her into an impressive 6th place in the Overall Championship and an 8-shot margin of victory over Christine Wong to be crowned this year's VANCOUVER OPEN WOMEN'S CHAMPION!  Parsons earned a cheque for $1,800 for 6th place and an additional $1,000 BONUS cheque for top female player courtesy of MAUI JIM CANADA! 
"Although I felt I missed some opportunities out there this week, I feel I hit it well enough and made enough birdies (18) to contend for the Overall Title" stated Parsons.  "It was great to have a 54-hole Professional event to compete in the week before LPGA Q-school having not had an event for a few weeks.  It was perfect timing to come home and use the Van Open to prepare for next week's "Q-School".  Wong finished runner-up in the Women's Championship at 2-under par with Tiffany Kong in 3rd at +4 in her first tournament as a Professional.  She will join Parsons down south this week at the LPGA Q-School.
FINAL CHALLENGERS
With Spooner out in front by 3-shots of Allenby, and 6-shots of his next challenger Jake Lane, someone was going to have to have a ripper of a start to have any chance at catching the West Van stalworth.  Either that or count on Spooner to have a truly off day. Which, after a course record 61, may just happen, right? 
Although I wouldn't call it a disaster of a start by Spooner, his opening 4-holes at even par certainly let a few players into the mix.  And after the scoreable Fraserview front nine, at only 1-under par, a few more players became part of the conversation for a possible comeback. 
Crisologo was one of these few players who made up such ground, shooting a tidy 3-under on the front, and crept within 5 of Spooner with 9 to go.  Next was Lane, who started 6 behind.  After a scorching front nine score of 32 (-4), he was now within 3 shots of Spooner with nine to play. 
And Richmond CC's Ziggy Nathu started to turn it up a notch himself starting 7 back to start, but now only 5 back after an opening nine of 33. 
Allenby had the best opportunity at the start of the day only three shots back.  He hit the ball just beautifully on the front nine, but just couldn't seem to get anything to drop.  He would shoot one-under at the turn and continue to be 3-shots back of Spooner with 9 to play.
Even our last two year's Champions Ilirian Zalli and Steven Lecuyer started to be a part of the conversation, both going out strong on the front nine, first Lecuyer who got to -4 thru 7 holes and only 5 back of Spooner at that point, but bogeys on 8 and 9 derailed his chances at another run at the title.  He would finish in a tie for 7th at 9-under par. 
Zalli was next carding an opening nine of 4-under par to also get within 5.  But bogeys on 10 and 13 ended his chances at a title defence and he would finish T10th for the title. 
Had it not been for a bout of the flu, and a string of three double bogeys on his final round card, Kevin Stinson may have put down a valiant charge on Sunday too.  His final round of 68 came with THREE EAGLES and FOUR BIRDIES.  He would finish in a tie for 7th.
So, the back nine came down to one of four players still challenging Spooner.  Who was up for the challenge? 
Nathu was first in with a very nice round of 66 on Sunday, but at 7-shots back at the start of the day, he really needed to fire something in the low 60's to have a chance.  His three-day total of 12-under par earned him a $2,200 cheque for solo 5th place.  Some confidence for sure as he heads back east to complete the PGA Tour Canada season with just 3 events to play.
Next to take a run at the leader was Meadow Garden's Jake Lane.  Within 3-shots at the turn, he did make birdies on 11 and 12, but failed to gain ground on Spooner who was starting to make a few birdies of his own.  He would end his final day with a round of 66, and a 3-day total of -13, good for a Tie for 3rd and a cheque for $3,050.  He too will head back out to play the final 3 PGA Tour Canada events.
Chrisologo appeared to be JUST TOO FAR BACK at the turn.  But birdies on 10, 11, 12 and 15 made a case for 'just maybe' if he could rattle off a few more coming home with 4 to play.
And although the chances were there, Crisologo could not sustain the challenge and made just one more birdie coming in.  Nonetheless, a very impressive round of 64 (-8) on the final day for the Team Canada Young Pro player, vaulting him up the leaderboard into a 2nd place finish at -14 and a $5,000 cheque. 
"Although I didn't get the start I wanted, my play over the last two days was definitely what I was looking for on my off week.  It has been great to come home and have the Vancouver Open to play in and gain some confidence heading into the final three events of the PGA TOUR Canada season. 
With all other challengers falling short, Langley's James Allenby was the last man standing to chase down Spooner on the back nine.  And he did just that, managing to narrow the lead down to just 2-shots thru 12 holes after a birdie on 11 and eagle on 12. 
Like so many past Vancouver Opens, the par three 13th hole turned out to be the pivotal hole in the championship.  With water lurking all right, and fescue bordering the entire back part of the green, it is a daunting tee-shot to say the least. 
So when Spooner's tee-short reached the putting surface, and his 30-footer rode up the slope and found the back of the cup on 13 for his 3rd straight birdie, that all but put the nail in the coffin for all challengers. 
And when Allenby finally hickuped on 15 and 16 with consecutive bogeys, the challenge was over and Spooner could breathe easily coming down the final few holes. 
With a three-shot lead heading down 18, it afforded Spooner an opportunity to lay-up his 2nd and wedge his 3rd into the green.  Anything less than triple bogey would get the job done.  He calmly wedged his 3rd onto the green to within about 12 feet and made the walk up to the green knowing the title that had alluded him for the past 10 years was finally going to be his! 
With the grace of a Champion, and in fitting style, Spooner rolled his 12-footer for birdie up and across the sloping 18th green at Fraserview and IN THE HOLE to put the icing on the cake!  The crowd, including his young nephew, cheered loudly!!
His final round of 67 not only earned him a 4-shot victory, but allowed him to break the existing Vancouver Open scoring record of 199 by three shots, claiming the first place winner's prize of $10,000!! 
CONGRATS TO KEVIN SPOONER – OUR 2023 VANCOUVER OPEN CHAMPION!!
Spooner's winning score of 196 (-18) wasn't the only record set at this year's Vancouver Open. 
The overall attendance in both the 54-Hole Championship (312) and our Charity Pro-Am to benefit Habitat for Humanity on Wednesday (190) hit an all-time high of 502 players in the field!!
I would like to thank all 312 Championship Golfers and all 190 Pro-Am golfers for taking part in this year's Vancouver Open Championship!  There were some amazing scores from each of our Divisional Champions, and for that you deserve to be recognized. 
A full summary of the tournament results is attached, including the Charity Pro-Am results and prize draw winners, plus each of our Divisional Champions below:
Please help me congratulate all of our 54-Hole Divisional Winners below.  You are all 2023 Vancouver Open Champions!!
2023 CHAMPION: Kevin Spooner 68, 61, 67 (-18) $10,000 first place cheque
RUNNER-UP: Chris Crisologo 74, 62, 64 (-14) $5,000
WOMEN'S CHAMPION: Mary Parsons (-10) $2,800 *Includes $1,000 MAUI JIM Top Female prize
MEN'S AMATEUR CHAMPION: Kevin Li (-5).
WOMEN'S AMATEUR CHAMPION: Jessica Ng (+5)
WOMEN'S FLIGHT 1 CHAMPION: Jessica Wong (+18). 
SENIOR CHAMPION: Steve Savage (+3) 
OVERALL NET CHAMPION: Shane Danielson (-2)
FLIGHT 1 GROSS CHAMPION: Geoff Pearson (+21)
FLIGHT 2 GROSS CHAMPION: Ed Fitch (+28)
FLIGHT 3 GROSS CHAMPION: Kelly Wong (+34)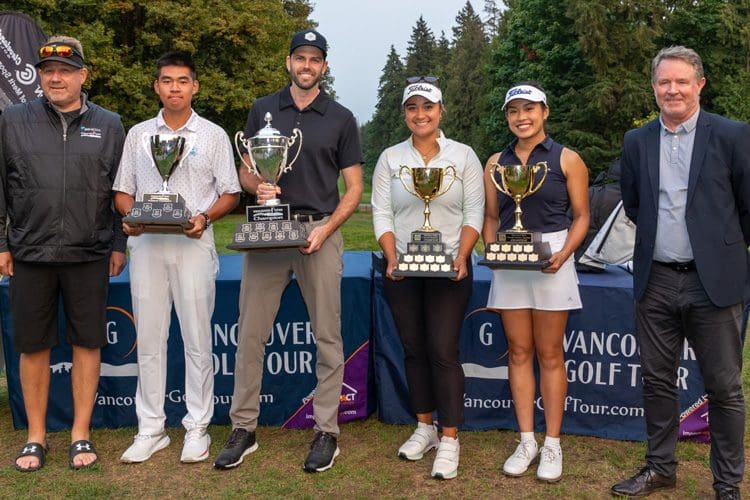 A few final shout-outs must be made.  First off, to the Vancouver Parks Board and City of Vancouver for agreeing to host this year's Championship and signing a partnership fo host the Vancouver Open thru 2024.  You have been an unbelievable partner in golf and we are so thankful to host the Vancouver Open at your three beautiful public golf courses. 
Hats off to all three golf course superintendents, and their fearless leader as you all need to be recognized for setting up the courses to offer championship conditions for the week:
Supervisor of all 3 Vancouver Parks Golf Courses: Dennis Luick
McCleery Golf Course Superintendent: John Cartlidge
Langara Golf Course Superintendent: Peter Rodrigues
Fraserview Golf Course Superintendent: Jarrod Oliver
EVENT PHOTOS (more to come): https://www.facebook.com/vancouvergolftour/photos_albums
A further round of applause to the 100+ volunteers and a dedicated and passionate group of VGT Team Members who worked around the clock to make this year's Championship a huge success!  I saw a lot of tired faces at the end of the week, but I also saw a few hundred golfers who benefitted greatly from playing in this year's Championship.  THANK-YOU for allowing us to stage one of the greatest local Championships available for Pros & Amateurs in our region! 
A very special mention to the Province of British Columbia, who kindly supported this year's event.  The support allowed us to both scale up our operations for this year's Championship and allowed us to offer up a total prize purse of over $80,000 in combined Professional and Amateur prizing and make a significant contribution to both the chosen charity. Thank-you for your continued support of local community sports events!!
One final thank-you to our Title Sponsor JM Media, and our cast of Major and supporting sponsors of this year's Championship.  Your support is greatly appreciated and allows us to continue to strive to put on first-class competitions for local golfers.  Giving our local players an opportunity to play in such an event allows many players to gain the confidence and experience to further their golf careers beyond the regional or provincial level. We have witnessed a number of Vancouver Open players who have gone on to become household names and Champions on PGA Tour Canada, the Korn Ferry Tour and the PGA Tour. 
We are excited about the promising young talent we witnessed at this year's Championship and look forward to seeing these players take the next steps in their career to becoming world class players like Adam Hadwin, Nick Taylor and Adam Svensson have done before them.
On that note, thank-you all for competing in the 2023 JM Media Vancouver Open presented by Vancouver Parks Golf.  We look forward to seeing you back in the field in 2024!
Sincere regards,
Fraser Mulholland
President & Commissioner
Vancouver Golf Tour